My Eulogy to my mom Rose Korpi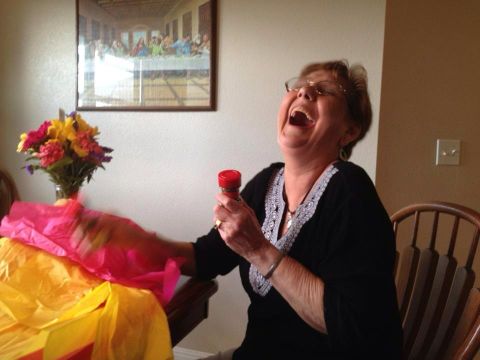 Good afternoon. Being brief is not something I'm good at, but I usually have no problem coming up with something suitable to say to large groups, that is until I had to do this. I thought it would be easy saying a few words about all the wonderful things my mom was and embodied . . . but I've lost many hours sleep and wasted many sheets of paper trying to find something concise, meaningful, and poignant to share with you here today.
I'll start by stating something not so eloquently but rather directly: Cancer Sucks.
The last three months have been bitter sweet: agonizingly long but dismally fleeting as we lived thinking only about her survival. We all existed, but in another identity. The characters of our routine lives left the stage, giving way to others who walked into a new novel that was too short, the ending already written, menacing like a cataclysm that was in the air. The last few days of her life, the issue was there, perceptible. It infested the air, making it hard for us to breathe at times. As we clung tighter and tighter to preserve the time we had left with her, more and more of it slipped away. With family surrounding her 24/7 near the end, we reminisced on memories past while making the last of the new ones in the process.
Sometimes it seems that you're no longer fighting cancer, but God's will, and that's a battle you're never going to win. This was my mom's case. I guess that means she was needed for an important task in Heaven. Either God finally needed a haircut, Jesus wanted her to crochet him a new designer robe, or St. Peter required her assistance in coordinating his centennial rummage sale . . . she always could balance her garage sale ledgers to the penny. No piece of merchandise, whether it was a broken coffee table or a half-used tube of toothpaste, went unaccounted for.
So either she was needed upstairs, or her ordeal was meant to teach US a lesson down here . . . or both. During her last two weeks, with her in the antechambers of eternal rest, where I spent so many hours with my own thoughts sitting by her side watching her sleep peacefully, have ripened me more than 15 years of teaching. Although it will take me sometime to figure out what I'm supposed to glean from her premature departure from us, I have had plenty of time lately to reflect on all the things she taught me during the 38 years we were together, a few of which I'll share with you now.
1. It's not what you get, but what you give. This is a valuable lesson in today's materialistic world. My mom gave lots of material things to others, it's why she liked garage sales so much. One man's shirt with a small tear on the sleeve, after a little mending, was another man's birthday gift, regardless of whether it was his style, color, or size. But she also gave her time and expertise as well. Whether she was visiting and playing dominoes with the residents of a nursing home, counseling married couples to be, making chicken salad sandwiches to sell at Bingo for a school fundraiser, making "fat free" butter braid breads for friends and family, crocheting afghans she donated to charity raffles, or simply offering someone one of her brilliant smiles, she gave cheerfully and willingly, and all who were on the receiving end were better for it, bigger around the waist if not more stylishly dressed.
2. Put others first. This selflessness, conscientiousness, and profound concern for others was perhaps her only character flaw. You see, my mother was a worrier. If she wasn't worried about something, we'd get worried, then she'd get worried and everything would be alright again. When she started her treatments, she grew weak and tired, and began to worry how she was going to get everything done at work and at home and how she was going to finish the latest crochet project. When I took her home from the hospital recently, having spent Christmas in a hospital bed worrying about when we'd reschedule our family Christmas and agonizing over having missed the Midnight Mass Choir Concert, she hit the front door of her house, raced to the back bedroom carrying her walker a foot off the ground because she needed to make sure my dad had purchased gift cards and birthday cards for her godson and grandson. Of course, he HAD, but that was after she wanted to take me to Kohl's to shop for a birthday and wedding anniversary gift for me—that conversation took place in the hospital parking lot. I know she appreciated all the thoughts and prayers when she got sick, but she was never comfortable with all the attention and fuss. In fact she confided in me recently that she actually felt guilty that everyone was making such a big deal over her condition when there were so many others who needed the thoughts and prayers as much, if not more, than she did. I'm pretty sure she's in Heaven right now worrying if everyone here has a rosary, knows how to pray the rosary, and feeling a bit embarrassed that we're all here to pray it for HER!
3. Courage and Patient Pertinacity. A worrier she was, but she was also a WARRIOR! She fought for justice, she fought for mercy, she fought for peace, and in the end, she fought for her own life. As I already mentioned, she loved to crochet (and BINGO), but she loved crochet so much, it was her password on all her protected files and programs at work. Even at the end, during her Immunotherapy, she would diligently and patiently persist at her craft, making three stitches just to have to pull two back out. It took her a bit longer, but the finished product was no less beautiful and perfect. As we just recently celebrated the courage Dr. King and his peaceful protests to inequities and injustices, so was my mother the epitome of a "turn the other cheek" Christian. I never heard her insult anyone in my life, in fact, the strongest word I ever heard was "fiddlesticks." I believe she went to confession for that one. She encouraged me also to ignore abuses and insults. In second grade, in the Rio Grande Valley, where I would routinely get called derogatory names in Spanish as I was simultaneously invited by the playground bullies to partake in a little fisticuffs, I turned to my mother for help. I was hoping she would show me how to throw a few punches or give me something vile and visceral I could throw back at them in my defense, she instead instructed me to call the offender a "Louse Boop," which she told me meant "Silly Boy" in some German dialect. Talk about turning the other cheek! This seemed to me like I would be handing them my two other cheeks on a silver platter if I had said that. Luckily my quick wit and my quick feet prevailed and kept me out of harm's way. Silly Boy . . . HA! Silly Mom!
Finally
4. She fostered in me Love of Learning. From a very early age, she included me in things she did, whether it was cooking in the kitchen or sewing on her machine. It's no surprise that I won "Homemaker of the Year" Award in 8th grade . . . Well, actually, it was a BIG surprise. I admit that I had to share the award with her. I have fond memories of crawling up in her bed and having her read to me the biographies of people like Cochise, Marie Curie, and Louis Pasteur, kind of nerdy I know, but to this day, I prefer nonfiction. But of all the biographies I've read, hers was my favorite, for I got to live it and help write it. In fact, I have to think that my passion for learning and teaching came from her. Kind of a funny story: When I was in kindergarten, she taught an elementary class at a catholic school. My class was across the hall from hers. I hated school back then, and I'd often sneak out of my class, run into hers, and hide under her desk where I felt safe from the laughter from her own students and from my own teachers who were trying to teach me how to color within the lines and open those impossible-to-open milk cartons. Whatever she did or told me during those escape attempts worked, because I went back to class and haven't left the classroom yet. I still can't open those stupid milk cartons, though. I'm still trying to figure out exactly what she meant a few days ago, when she spoke to me for the last time. She kept repeating the word "learn, learn, learn." "Learn what," I asked. She nodded her head, "Yes," and mouthed the word "learn" yet again. "OK, Mom."
Learn a lot, Love a lot, Laugh a lot. I won't disappoint you, Mom! I've tried never to do that, and I'm not going to start now. There was so much to learn growing up, and you were a wonderful teacher.
We can all learn a thing or two from my "mumps," my "Rose Bud" about how to live our lives selflessly, in service of others, with a gracious willingness and loving heart. She defined what it meant to live well: LEARN a lot . . . . . LOVE a lot . . . . . and LAUGH a lot. Substitute any one of those with "CROCHET" and you still have a winning recipe.
I Love you Mom!